I am a 14 year old kid in Ohio that is learning HTML for my future job. I love the computer and I am trying to learn JAVA programming and BASIC with J. Rodd, who owns NOAH. He is my big brother through the Big Brothers Big Sisters program of the local YMCA. This is my page that I made using Tripod and I am hoping to create an online neighborhood. Also, I am hoping to promote God in life because our life is falling apart as we know it. I am a big supporter of the
E.R.A.C.E.
foundation set to stop racial discrimination. This organization was started by my favorite Christian band,
dc Talk
Please show your support, and Thanks in advance!
Funny Downloads Plus+
NEW!!
Click here to FTP to my new video game sound directory.
Download
a salute to baked beans month
that is apt to leave you rolling on the floor laughing.
Visit
MGarland's Themes
for a great collections of TV theme songs and movie themes.
Click
here
for the
Audio Adrenaline's
latest album "Underdog" their hit single "Get Down" which recently won a Dove award for best Christian Rock Single.
Click
here
for the
P.O.D.
music video "Southtown"
Send e-mail
Visit my page often for updates and more information!
I am hoping to create a homepage for my youth group at my church, I will soon get information for that and I will let u know.
Make sure to visit some of the pages
here
.
Stay safe and happy in this 21st Century!
For all of my friends out there from
Round Lake Christian Assembly
in Lakeville, Ohio: days 'til Round Lake Camp!!
Please click on the sprocket below to offer more good advice to me and the city. Thanks!
I am Magic! I bet I can guess which browser you are using!
Abracadabra! POOF!
Now, am I good or what?
In video games,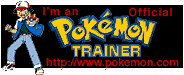 I am an
Official Pokémon Trainer
click this link to email me your secrets!